RUMOR: Netflix and Marvel Exploring 'Agent Carter' as an Original Series
|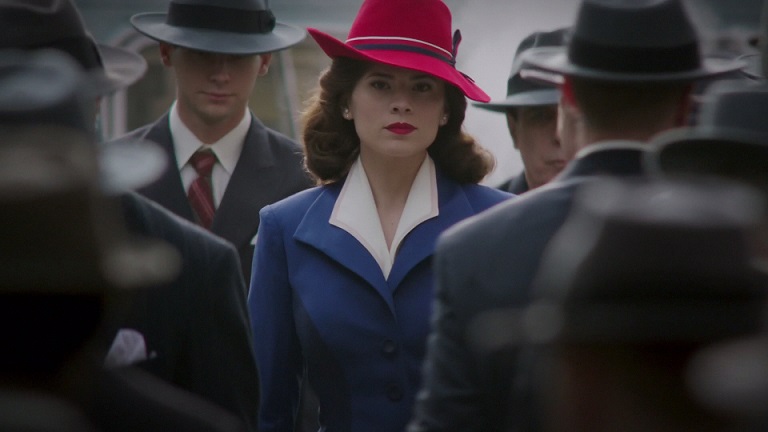 Netflix and Marvel have proven to be a match made in heaven. With 'Daredevil' and 'Jessica Jones' quickly punching above their weight, the hype train for all future Marvel/Netflix partnerships has certainly set a pretty high bar.
With recent announcements that 'Luke Cage' will be premiering this year alongside news that 'Punisher' will be getting his own series, it's pretty obvious this has been a fantastic partnership that both parties are looking to expand.
So the timing couldn't be better for 'Agent Carter,' recently cancelled by ABC for low ratings, to perhaps turn to Netflix as a possible savior. While sources close to the streaming service wouldn't reveal any specifics, we've heard "there are definitely some phone calls being made" and "Netflix and Marvel are exploring all expansions of their current partnerships" (that last sentence coming with a bit of a wink and a nod). It also seems likely that it could be included as part of the Netflix and Disney (who owns ABC) deal that's rolling out this year. Serendipitous, certainly.
Ok, get excited for a split second! But also keep a level head, because here are a few "back to reality" details that will need to be addressed:
This would not likely be a direct transfer of goods. In other words, we'd likely be looking at an entire re-do of 'Agent Carter.' It's not impossible that Disney would hand the entire series over to pick up where it left off, but that's considerably more complicated than just a restart.
Hayley Atwell (Agent Carter herself from the ABC rendition), has already signed on for new ABC television series 'Conviction,' and it's unlikely she'd star in two shows at once. This probably just gives more strength to the argument that any re-launch would likely be a complete refresh.
Now that's out of the way, there's just something lingering about the potential of a Netflix reboot of 'Agent Carter' that we could certainly see happening. Most of the current Netflix/Marvel partnerships have had extremely dark and brooding undertones, so in some ways it would make sense for Netflix to look for a lighter new original superhero series; 'Agent Carter' fits the bill here perfectly.
Disney, who owns ABC, has also signed a mega-deal with Netflix, meaning perhaps they could get their cut signing the rights over to Netflix as well. The streaming service is expected to stream dozens of titles from the Disney library in 2016. 'Agent Cater' is distributed by Disney, so it seems like there wouldn't be any owners' rights issues in the way.
So what about those low ratings? Towards the end of 'Agent Carter's' run on ABC, it was averaging a rating of around 2.9-3.0, which definitely doesn't cut it for network television. However, there's no doubt that a service like Netflix could certainly work with those numbers if it meant bringing in new subscribers. The streaming service has said numerous times it is less concerned with traditional ratings, as they feel those don't necessarily correlate with new subscriptions.
We have reached out to both Netflix and Marvel's official press contacts for comment and will update you here if we hear back. Stay tuned…