Rest in Peace, 'Other Space' the World Barely Knew Thee
|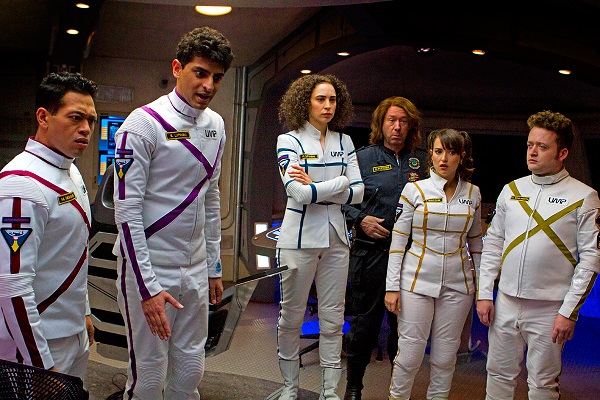 I think collective internet denizens truly dropped the ball on this one.
Or maybe I should blame Yahoo! for terrible marketing.
Either way, the odds that we'll get a second season of Yahoo! Screen original 'Other Space' is at this point slim-to-none, and nothing makes me sadder.
'Other Space' was quirky, innocent and fun. It reminded me of a modernized 'Red Dwarf' with sharp cultural references and a hilarious cast that deserved so much better than a single season.
The rumors are that the Yahoo! Screen experiment with original programming is likely coming to an end, meaning shows like 'Other Space' and the lesser 'Sin City Saints' won't be making a return for followups. NBC spill-off 'Community' was heralded as a success by both show producers and advertising partners, but the one season order was never intended to be extended.
So as Yahoo! plans to write off $42 million from their streaming service, indicating that the company is not planning on expanding or extending anything within this department anytime soon. With that comes the sad realization that while 'Other Space' was some fantastic television, the series likely suffered a fate out of its own control.
It's unlikely that a service like Netflix or Hulu could pick up 'Other Space' as Yahoo! likely holds a pretty expensive price tag on the show. In other words, if perhaps the series started as an independent web series, it would be ripe for the taking by one of the major SVOD services. But for now, as Yahoo! likely gave it more budget and investment, it won't come cheap to pick up the rights to continue with the premise.
While I personally love to blame Yahoo!'s marketing failures on 'Other Space's' lack of reach, it also fell squarely on those of us who did in fact enjoy and watch the series. Clearly we didn't do a good enough job spreading word about the show, and for that I will always hold a little bit of regret.