[POLL] Here's Who We Want to Host a Netflix News Series
|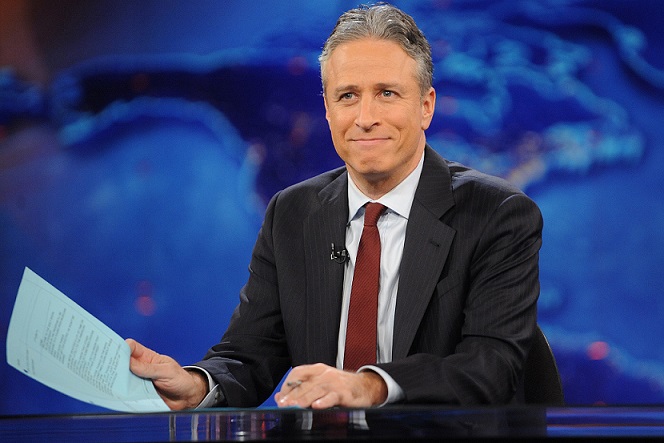 "Who would you like to see host a Netflix News show?"
With all the chatter during the Netflix earnings call this past week, one particular thing stood out: Netflix is looking to create a recurring news series.
When Netflix CEO Reed Hastings asked Chief Content Officer Ted Sarandos what the odds were regarding Netflix creating a VICE competitor, Sarandos responded simply, "Probably high."
Certainly an exciting announcement, even if it's unofficial in the short term. A lot of people enjoy VICE's weekly news stories, and a Netflix spin on it would of course be an interesting development in the world of streaming video. Netflix is currently lacking in timely and relevant "next day" content, with most TV shows and movies coming months and sometimes years after their initial release. So to bring some sort of daily or weekly news series to the service would be a major shift in their current offerings.
But what does this all look like?
We thought it would be fun to ask a simple question, "Who would you like to see host these Netflix News shows?" If Netflix is to make this successful, there's arguably nothing more important than a recognizable personality leading the charge. We surveyed close to 300 people following the announcement and some clear favorites emerged:
"Assuming they were interested and available to host a Netflix news program, who would you prefer do so?"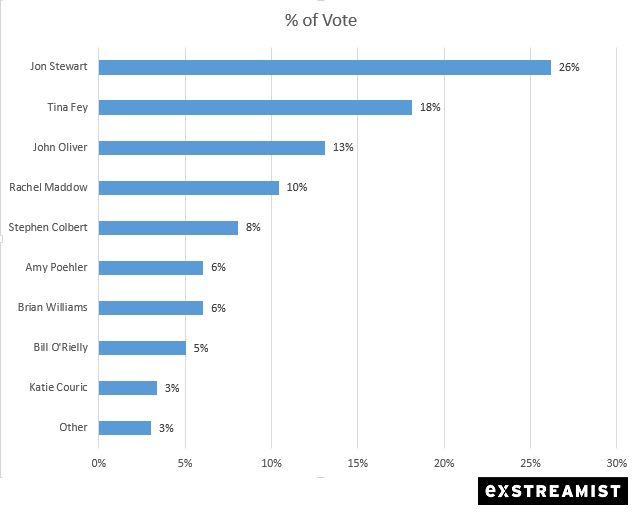 One name rang out as particularly popular, the ex-Daily Show host Jon Stewart. There are likely few names as recognizable as his among younger audiences and television news, certainly an appealing demographic to any TV network. But Stewart has just ended a 15 year run as nightly news show host of 'The Daily Show' and we're guessing, unless the offer is particularly appealing, he's not that interested in jumping back behind a desk. Regardless, perhaps Netflix could make him an offer too good to pass up, as they'd love to make waves with a big name like Stewart's.
Another popular, and perhaps more likely choice was Tina Fey, whose stint on 'Saturday Night Live's' Weekend Update gave everyone a taste of her wit and comedic timing when recapping the week's most notable, and often ridiculous, events. Fey has been behind a number of successful sitcoms, and most notably the recent Netflix hit show, 'Unbreakable Kimmy Schmidt.' This previous relationship leads us to believe that there has at least been loose conversation surrounding the possibility.
One of the other names that quickly surfaced near the top of the results was Rachel Maddow. The poised host of MSNBC's 'The Rachel Maddow Show' would certainly make for a great host of a more serious news show if Netflix decided to head that direction.
Another fun name on the list to consider was Bill O'Reilly's, which would certainly stir plenty of pots if Netflix decided to bring a polarizing figure such as O'Reilly's to their news offerings. There is no denying that O'Reilly has built up a massive following and could easily bring a large audience with him if handed the keys.
As far as the style of the show goes, we did also ask folks what sort of slant they would prefer for this news addition to the streaming service: a comedic focus (think The Daily Show), or a more serious focus (think VICE). With some certain majority, most people responded that they prefer a more humorous approach, while of course remaining focused on the week's big events. However, plenty of people did feel a serious offering would work as well. See the results below: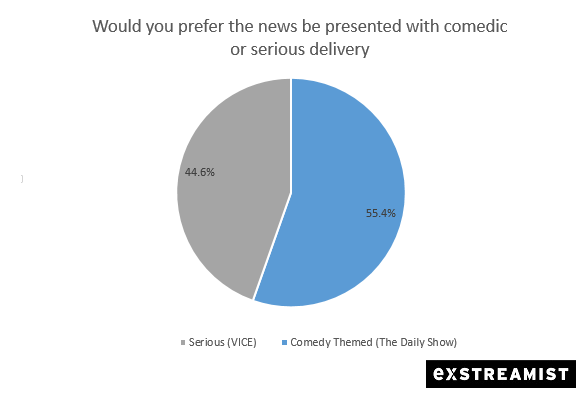 It appears most would prefer Netflix news be more comedic than serious, but there were certainly respondents who commented that, while they would love to have Jon Stewart, they would prefer it was reigned in to be slightly more serious than his previous 'Daily Show' career.
Keep the conversation going below. What would you like to see out of a Netflix news series? Would you prefer a nightly offering or would you be more interested in a weekly recap? Who would you like to see hosting the series?