Netflix original Unbreakable Kimmy Schmidt is getting some really strong reviews
|
To be completely transparent, the initial premise of Unbreakable Kimmy Schmidt didn't necessarily strike me as comedy gold.
But two things trumped the initial fear. First, Ellie Kemper is starting to hit her stride as an actress. Fans of The Office will recognize her quaint, innocent outlook on life as she's not necessarily breaking that mold, but she gives off a believable performance as someone who has had a ridiculously troubled upbringing. You truly believe that she was heavily indoctrinated in a cult, which under the surface can be pretty dark. And her character certainly displays these underlying problems, just with enough comedic tint that you will inevitably find her situation quite hilarious.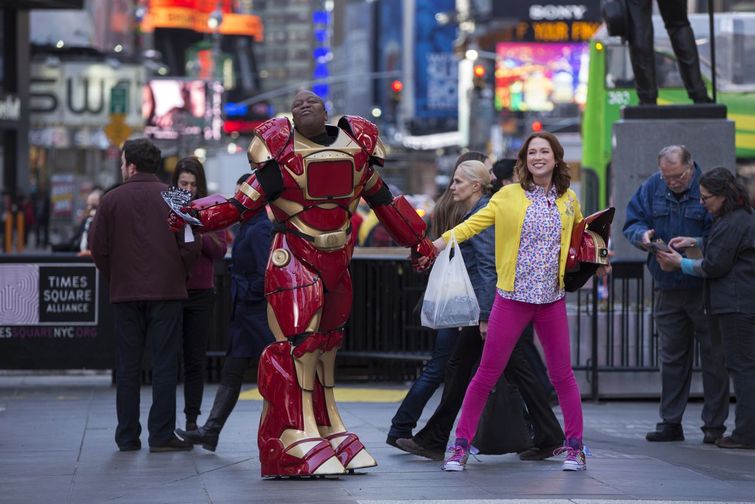 And second (and perhaps most importantly) Tina Fey and Robert Carlock are the driving force behind the concept, characters and writing. Both have earned my trust no matter how ridiculous the concept, and will continue to do so, especially when the content quality is as good as 30 Rock and now, Unbreakable Kimmy Schmidt.
The show will appeal to most of the 30 Rock crowd, but there have been dozens of comparisons made that tend to remain a little thin. Most people are not going to find the direct relation at all, but Fey's production is visible in most aspects. This is probably more of a reflection on her versatility than anything else; her ability to apply a unique comedic style to any premise making it feel familiar.
While Netflix hasn't released total viewership numbers of the series, the critical acclaim has been enough to make us believe this show is going to wind up being a major winner for the streaming service, especially as a sort of "first" in their original content library that feels like a network sitcom. Originally slated to air on NBC, Netflix looks as if they will come out on top with this one as a second season has been ordered as well.
A few critic ratings below:
Metacritic: 78 (Generally favorable reviews)
Rotten Tomatoes: 95% (critical acclaim)
IMDB: 8.5 (critical acclaim)
I'm almost done with the first season, and can confidently say I'm excited about what Fey and Kemper will pull off in season two.
Five solid stars and a confident recommendation from us for fans of similar NBC comedies such as The Office, 30 Rock, Parks and Rec and more. Get watching now else feel as if you too have been trapped in a bunker for 15 years.