Hulu releases new original series 'Resident Advisors'
|

For those of you who tuned in to watch a few episodes of Hulu's new original series Resident Advisors, you might have been pleasantly surprised by both the quality of writing and wittiness of much of what seemed like 'college humor.'
Resident Advisors review
Sure, the premise seems pretty targeted, but overall Resident Advisors, at least thus far, has me enjoying each episode I've seen. Produced by Elizabeth Banks, who also has a smaller role in the show, the comedy series will appeal to folks who can handle a bit of cringe-humor, both intentional and otherwise, who aren't looking for a show that takes itself too seriously. Party Down fans might recognize RA Doug, played by Down's Ryan Hansen, who certainly has the strongest role in the show thus far. Resident Advisors is sort of a slow burn sitcom that doesn't try to break any new ground, but rather just focuses on the entirely ridiculous nature of not only college life, but specifically on every personality of resident advisor we all encountered in our dorm. I caught myself rolling my eyes a lot in the first few episodes but noticed this "oh brother" feeling decreasing as the show progressed, especially as each character began to hit their stride.
In other words, give the show a few episodes, the pilot, like almost all show pilots, was awkward and clunky, but Resident Advisors does end up finding its place.
From the super spunky, school-spirited goody-two-shoe RA to the one who tries to sell you drugs during their dorm rounds, Hulu's Resident Advisors captures the characters of those we all meet in college quite well. Thinking back, the entire concept of giving a 19 year old keys to every dorm room and the power to punish other college kids their same age is pretty ridiculous. I think back to my own dorm days, and while I loved my floor's RAs, the whole idea cracks me up.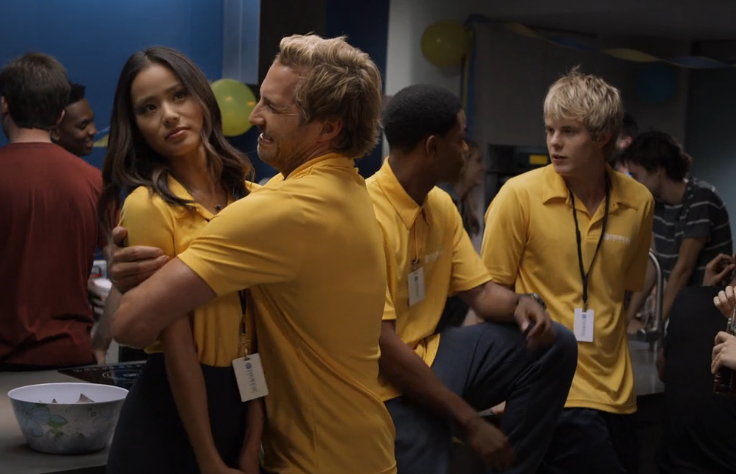 Hulu's Resident Advisors premiered April 9th, and released the seven episode first season immediately for Hulu subscribers. The show has some recognizable faces, but each cast member has thus far carried their own without having too much asked of them. In other words, I'm willing to bet this was a really fun show to make. In the first few episodes I have seen, the truth is it's a great show to just have on to enjoy as light-hearted and perhaps background entertainment. I can casually be watching the show while doing other things on my couch and I'm still able to grasp the story and humor (there's quite a few great lines, credit to the writers) while not trying too hard.
An example of the opposite of this recently being Unbreakable Kimmy Schmidt, which I loved dearly, but you had to be paying attention the entire time in order to truly capture not only the story but the wit and fast-paced one liners that really drove the show. With Resident Advisors, you can relax and simply enjoy the comedy, not a whole lot of thinking involved. This is not meant to be an insult but rather just to point out that the show does its job: gives me an occasional laugh and keeps me entertained.
No word yet as to whether or not Hulu has picked up Resident Advisors for a second season, I'll update this post if I hear back anytime soon.