Hulu Originals Summer Premiere Dates for Difficult People, East Los High and The Hotwives of Las Vegas
|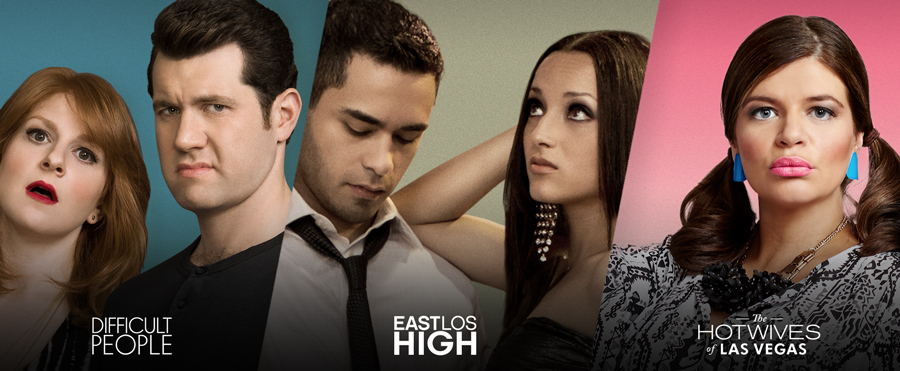 Time to update the Hulu Premiere Dates list as Hulu has just announced three of their original series getting dates scheduled for summer 2015. Below is the announcement from Hulu on when you can start watching the newest releases from their original catalog.
East Los High
Season Three Premiere date: All episodes streaming Wednesday, July 15
Cast: Gabe Chavarria, Danielle Vega, Carlito Olivero, Alexandra Rodriguez, Vannessa Vasquez, JD Pardo
Crew: Executive Produced by Katie Elmore Mota, Mauricio Mota and Emiliano Calemzuk. Created and Executive Produced by Carlos Portugal and Kathleen Bedoya
Synopsis: The Hulu Original returns for a third season with an even hotter mix of love, dance, sex and true-to-life drama.  Camila finally confronts a dark secret from her past.  But in trying to keep her sister and boyfriend from harm, Camila risks losing her own life and her one true love.  Meanwhile, the stakes are higher than ever when Ceci invites boys to join to the Bomb Squad and the sexy new team dances their way through the tough streets of LA, where unexpected romance and danger make this yet another addictive year at East Los High.
Difficult People
Season one Premiere date: Streaming weekly beginning Wednesday, August 5
Cast: Julie Klausner, Billy Eichner, Andrea Martin, James Urbaniak, Gabourey Sidibe, Cole Escola
Crew: Executive Produced by Amy Poehler and Dave Becky. Created by Julie Klausner
Synopsis: Billy Eichner and Julie Klausner star as best friends living in New York City. Their typical, irreverent behavior lands them in some very awkward situations.
The Hotwives of Las Vegas
Season two Premiere date: Streaming weekly beginning Tuesday, August 18
Cast: Casey Wilson, Angela Kinsey, Tymberlee Hill, Andrea Savage, Danielle Schneider, Dannah Phirman and Erinn Hayes
Crew: Executive Produced and written by Danielle Schneider and Dannah Phirman. Executive Produced by Jonathan Stern, Paul Scheer, and Alex Fernie.
Synopsis: The second season of Hotwives brings us to Las Vegas: a city where dreams and fortunes are made every day, along with hundreds of new cases of herpes. We'll meet a fresh batch of real Hotwives loving and clawing their way through sin city with smiles on their faces – cause the Botox won't let them frown. So brace yourself for double the drama, triple the heartbreak and seven times the fake boobies on The Hotwives of Las Vegas.
Still no word on the following premiere dates for Hulu originals: 11/22/63, Casual, RocketJump: The Show, The Awesomes, The Mindy Project, The Way, But Hulu has confirmed they're on their way!