Hulu Original 'Deadbeat' Third Season Premiere Date Set
|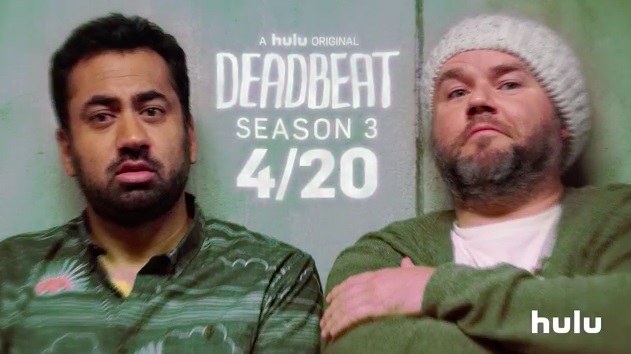 Pot jokes galore, Hulu released a third season trailer and premiere date for their highest original series 'Deadbeat.'
To put it bluntly without wasting anyone's time, the third season will premiere on the 20th day of April. Probably purely coincidental, we can't find any particular reason why Hulu would release it then.
For those less in the know about 'Deadbeat' –
Deadbeat season three follows Kevin "Pac" Pacalioglu (Tyler Labine) as a lazy, overweight slacker who can see ghosts. Needing to make a fresh start after losing both his ghost girlfriend and best friend/drug dealer, Pac moves into the apartment of a "stoner entrepreneur" Clyde Shapiro (Kal Penn), an equally aimless Brooklynite who Pac meets in jail. When Clyde learns about how Pac is able to help send ghosts into the Light by resolving their unfinished issues, he excitedly offers to help Pac monetize his gift by going into business with him. 
Created by Cody Heller and Brett Konner (Wilfred, The Inbetweeners), "Deadbeat" is produced by Lionsgate Television in association with Brad Pitt's Plan B Entertainment and Dakota Pictures. The supernatural comedy is executive produced by showrunner Dan Lagana (Good Vibes, Zach Stone is Gonna Be Famous), Cody Heller, Brett Konner and Plan B's Dede Gardner and Jeremy Kleiner. Co-executive producers are Sarah Esberg and David Baldy.
You can watch the season three trailer below: