FX's American Crime Story has not seen as much controversy as it has with their second season. The Assassination of Gianni Versace consists of nine episodes which cover almost every aspect of the assassination. For those who don't know Gianni Versace was one of the most famous fashion designers in whose murder shocked the world. He was murdered by serial killer Andrew Cunanan. The 8th episode of the show is directed by American Horror Story veteran Matt Bomer.
If true crime stories excite you, then this is one that shouldn't be missed. Below is how you can stream every episode of the Assassination of Gianni Versace: American Crime Story Online.
Watch the Assassination of Gianni Versace Online Using the Official FX App
The FX Now app is perhaps the best way to stream the Assassination of Gianni Versace free. The app is at the moment only available for Android and Apple devices. You'll need to log-into the app with your subscription information to start streaming all of their content. However, if you're not an FX subscriber, then this will not work for you. Though the good news is that there are other ways to stream the show and the network without having to deal with a cable service.
Live Stream the Assassination of Gianni Versace with AT&T TV NOW
AT&T TV NOW is a cable alternative operated by AT&T. Subscribers to the service pay $35 a month for access to dozens of channels like AMC, CNN, ESPN and FX amongst others. Which means that you can obviously live stream the Assassination of Gianni Versace from any smart device via the AT&T TV NOW app. Plus, if you are a subscriber to AT&T's 4G service you won't get charged for the data consumed while streaming your favorite shows. Click the button below to try the service for free.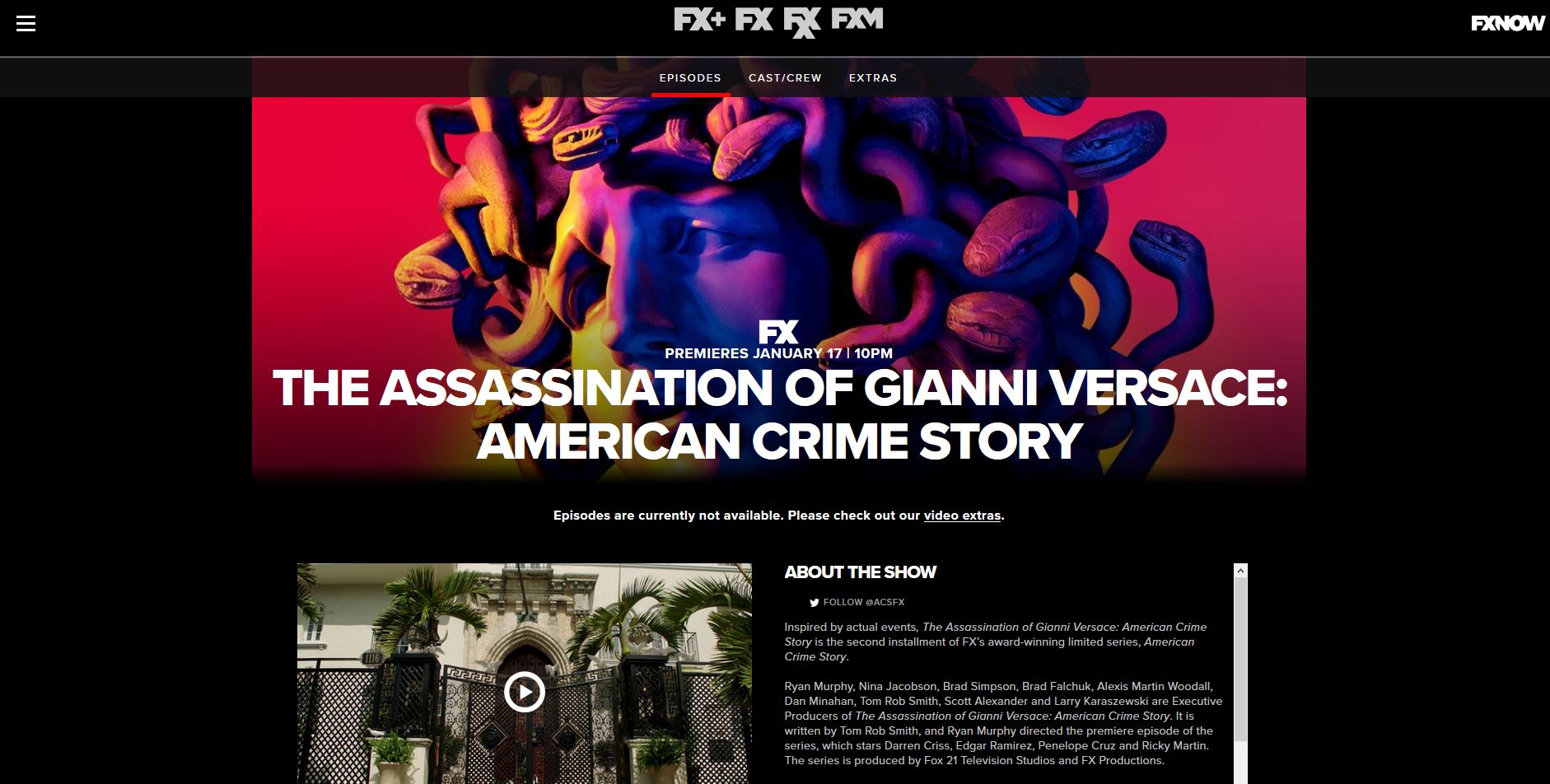 Live Stream the Assassination of Gianni Versace Online with Sling TV
Sling TV is yet another cord-cutting service but one that starts off at a slightly cheaper price point of just $20 a month. However, you should consider upgrading to the 'Blue' package bundle which includes FX. Plus, thanks to apps for just about every device you can think of and the option to stream via a regular web browser means that you'll never miss another gore-filled episode again!
Streaming the Assassination of Gianni Versace on Netflix, Hulu, and Amazon
Netflix does and probably will not ever get the show. The reason is that as of late the service has stopped getting FX shows except for some very old ones.
Hulu probably has all the episodes available for streaming. You can also stream the previous season of American Crime Story. New episodes are available within 24 hours of the show being broadcast on FX.
Amazon Prime also has episodes of the show. However, you'll need to pay a murderous $2.99 an episode to download it.
Other Methods of Streaming the Assassination of Gianni Versace Online
There are many different free streaming websites that will probably stream the show. However, these are illegal because they infringe upon US copyright which means that if you get caught its hard not to be released go without a fine. So, unless you want to spend more than this show is worth we would advise against using free streaming services.