Life Sentence is an American comedy-drama on CW. The show tells the story of Stella who was diagnosed with cancer eight years ago and has since then been living life to the fullest. She's done everything from skydiving to skiing thinking it was her last few years on earth. However, she later finds out that the cancer has finally receded and she is now cancer free! Things are about to change in a major way because there is medical debt that needs to be paid up, her boyfriend does not know where he stands in their relationship and not having a college education has severely limited her employment opportunities. Though it does make for some rather funny situations.
If you are a fan of shows where things tend to go wrong, then watch Life Sentence. Below we'll look at a few ways of streaming Life Sentence online.
Watch Life Sentence Online Using the Official The CW App or Website
The official CW app for iOS and Android devices is the way to go because it is free to use but only for subscribers. Users can log-in with their subscriber credentials to stream all the episodes of Life Sentence which have been aired so far. You can also watch all other CW shows like Flash, Supergirl, etc. However, if you have no intentions of becoming a cable subscriber then why now try using a cord-cutting service like the ones below.
Live Stream Life Sentence on AT&T TV NOW
AT&T TV NOW makes it possible for you to live stream Life Sentence on any device ranging from an iPhone to the Xbox One. The AT&T run service starts at a mere $35 a month, and along with The CW, subscribers get to stream many other networks like ESPN, Syfy, AMC, etc. Plus, you're welcome to try the service for 7-days free by clicking below.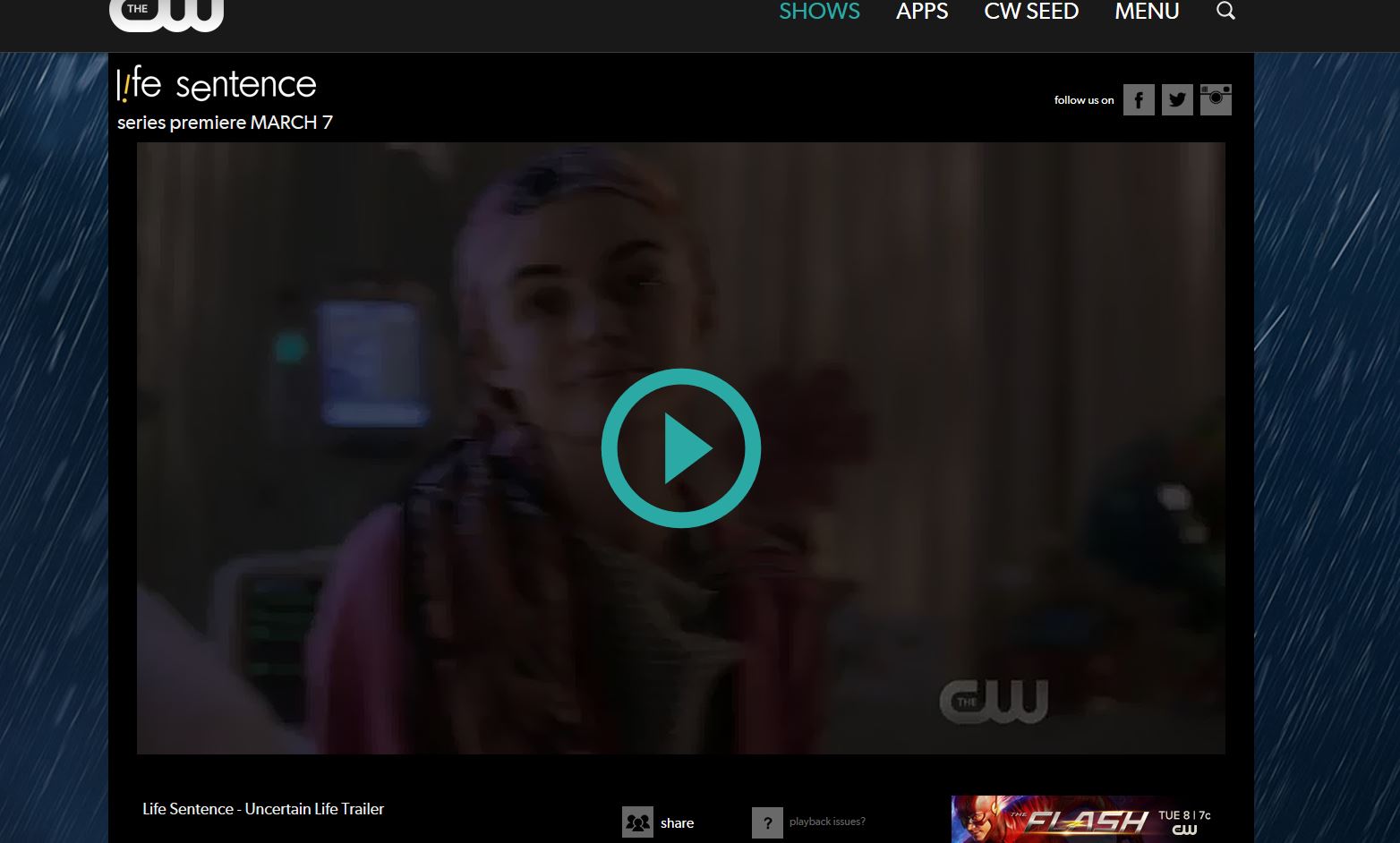 Live Stream Life Sentence Online with Sling TV
Sling TV is a budget cord-cutting service which starts at a mere $20 a month. However, despite streaming nearly a hundred networks, you can't watch Live Sentence because The CW is not part of their current lineup of networks. That said being able to stream literally dozens of other shows and sports events while on the go still make it worthy of your consideration.
Streaming Life Sentence on Netflix, Hulu, and Amazon
Netflix recently cut ties with The CW so don't expect Life Sentence to be available for streaming. It's a shame though because we thought things were going pretty well.
Hulu, on the other hand, has all the episodes of Life Sentence. They have a great deal with The CW, and so new episodes are uploaded pretty swiftly.
Amazon Prime is for those who'd instead download episodes of Life Sentence and watch it later. Though expect to pay $2.99 an episode, which isn't exactly cheap.
Other Methods of Live Streaming Life Sentence
We are sure that there are plenty of other methods of live streaming Life Sentence for free. But they are illegal which is why we're not going to recommend or link to them here. Getting booked for piracy is not fun and can be equivalent to a life sentence if you don't enjoy prison food.
Last Updated on by Exstreamist