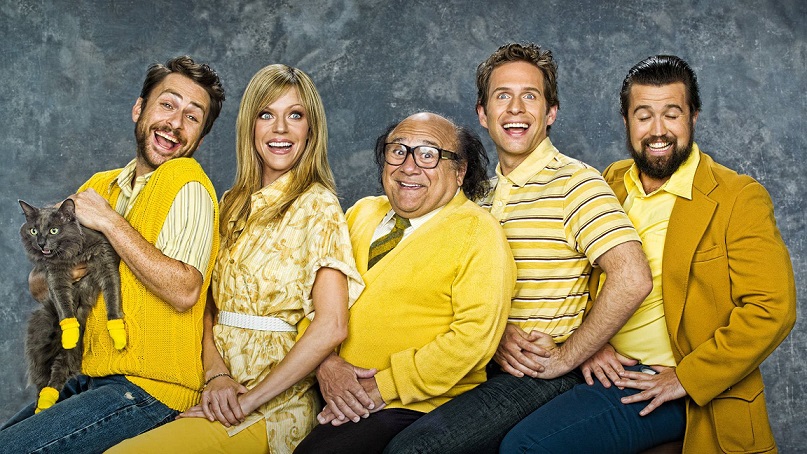 We heard a great description of It's Always Sunny in Philadelphia the other day… "It's like Seinfeld for people who have sick senses of humor."
This feel relatively accurate, as IASIP stretches the "show about nothing" theme to extreme levels of discomfort, political incorrectness, inappropriateness, and more. There has never been a cast as self-centered as Dennis, Dee, Mac, Charlie and Frank as they navigate some otherwise normal daily situations but only take the most absurd route to scamming the system as much as possible.
It's Always Sunny in Philadelphia started out as basically an "over beers" project of the cast that evolved into a pilot for FX, a network who was hoping to take a few more risks with their programming. Danny DeVito, according to rumors, fell so in love with the ridiculousness of the show that at the starting of the second season he wanted in, quickly being cast as Dennis and Dee's father.
IASIP has been nominated for lots of comedic awards, and has been generally well received by critics who are willing to admit that while the show isn't always groundbreaking, the way the show approaches this is somewhat groundbreaking in and of itself. Most importantly, viewership has continued to rise and the It's Always Sunny fan base continues to increase.
Will there be another season of It's Always Sunny? You bet your ass there will be. This has quickly become one of FX's most popular shows and will likely remain on the air for at least a few more seasons.
So where can you stream It's Always Sunny in Philadelphia online? We break down the various streaming services where IASIP is available.
Is It's Always Sunny In Philadelphia on Netflix?
Great news, you can watch every season of It's Always Sunny in Philadelphia on Netflix with the exception of the most recent season. The newest season of IASIP will normally start streaming on Netflix a few weeks before the next season starts airing on television. Netflix is a great place to start streaming It's Always Sunny for folks looking to give the show a shot or rewatch their favorite episodes.
Watch IASIP Live with Sling TV
Another great option is a bit of a larger commitment. Sling TV is a new alternative to Cable that allows you to subscribe to several channels for a mere $20, including It's Always Sunny and FX. This is a great way to watch It's Always Sunny in Philly online even if you don't have a cable subscription. It gives you live television so you can watch online just like you would on a traditional television. Head over there now to check it out and sign up for the free seven day trial.
>> Sign Up for Sling TV and Watch It's Always Sunny Online for 7 Days Free <<
Stream It's Always Sunny in Philadelphia on Hulu
Similar to Netflix, most seasons of It's Always Sunny are on Hulu. It's a great place to stream if you're not a Netflix subscriber. There are ads in between episodes on Hulu so if you're hoping to binge watch, Netflix is probably a better option, but it wouldn't surprise us to see Hulu catch some special rights to stream the most recent episodes ahead of Netflix.
It's Always Sunny in Philadelphia on Amazon Prime
For subscribers, you can currently watch all past seasons of IASIP online on Amazon Prime
. There were rumors that Amazon Prime was going to make a play for exclusive rights to this show but that never seemed to materialize.
Google Play and iTunes
For those with no access to any of the above streaming services, you can buy individual episodes of It's Always Sunny from the two major pay-to-play streaming services. Each episode costs between $2-3 depending on the quality. This is a good option if you're looking to catch just an episode or two, but would get quite expensive for the entire series.
Old fashioned? You can of course still buy the DVD box sets of each season as well. They're pretty cheap on Amazon
.
Watch the show's promo below: