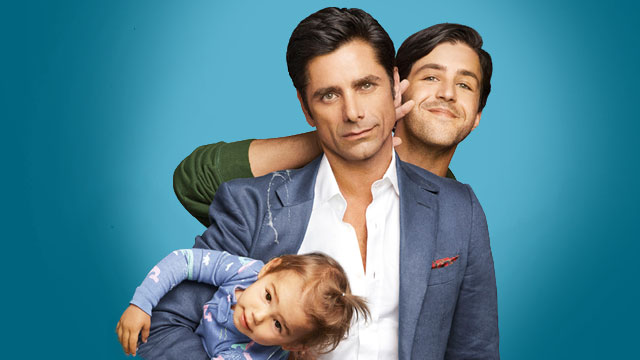 Everyone remembers Jesse from Full House, right? Well he's back.. um.. we mean that actor is back and taking on another roll. This time he's a man who just found out that he has a son. But not only that– he finds out his son has a child as well! That makes him "Grandfathered" alright if there ever was such a term.
Fox has a few different online streaming options for their shows including Grandfathered. Here are some of the most convenient and easy to access ways to watch Grandfathered online for free.
Is Grandfathered on Netflix or Hulu?
Fox has a few shows on Netflix but Grandfathered is too new to be a consideration just yet. Netflix doesn't have any programming that premieres alongside the original broadcast so either way you'd have to wait. Don't look for Grandfathered on Netflix anytime soon.
Hulu, on the other hand does have Grandfathered and most other Fox shows available to stream as long as you're a premium subscriber. You'll have to watch commercials unless you sprung for the ad free version of the app.
Watch Grandfathered Live with Sling TV
Sling TV is a new alternative to cable that allows you to subscribe to several channels for a mere $20, including Fox and Grandfathered. It gives you live television so you can watch online just like you would on a traditional television. Head over there now to check it out and sign up for the free seven day trial.
Watch Grandfathered on Fox for Free with Fox Now or Fox.com
Fox allows you to stream most of their shows from their website as long as you log in to verify yourself. Grandfathered is there for streaming if you're interested in that show but there are several others there as well.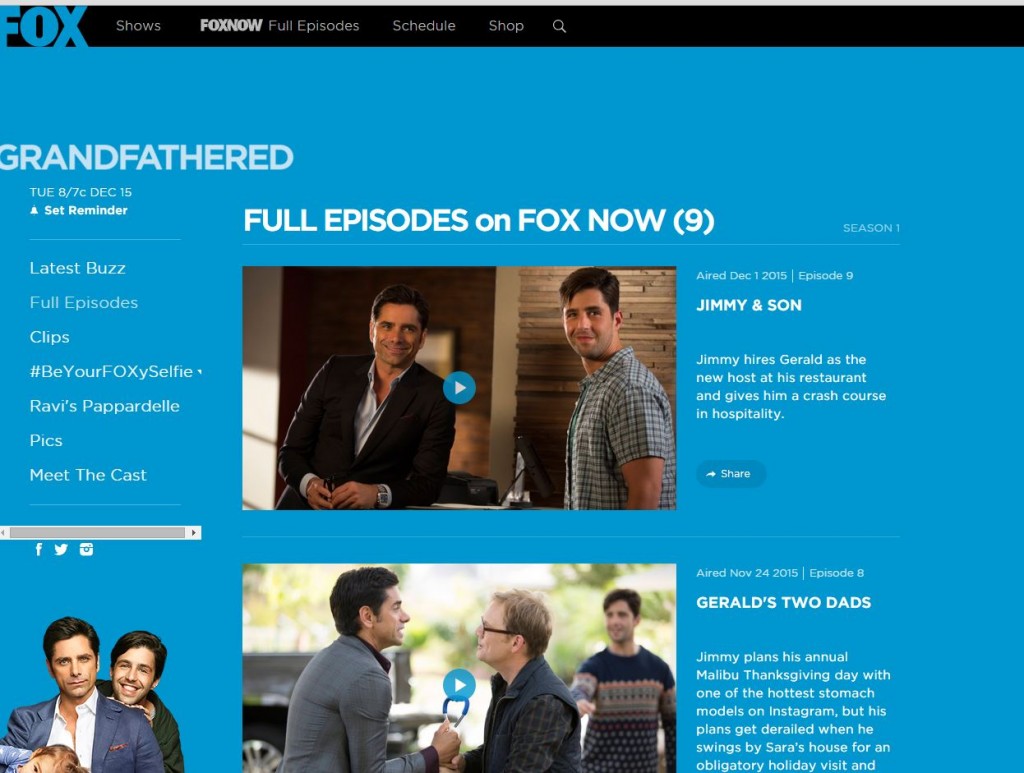 The FoxNow app is also a great option for streaming Grandfathered online. It's basically the exact same content as the Fox website but in app form. This could make it easier for you to stream Grandfathered on the go but if you have a reliable browser on your phone you may just want to stick with that instead. The app offers nothing in addition as far as we can tell.  So if you don't want to download an app just head to Fox's official website but if you prefer apps for everything go ahead and grab FoxNow, particularly if you're interested in other Fox shows outside of Grandfathered.
Download Full Episodes of Grandfathered Online
If you'd rather skip the app and the website streaming for Grandfathered you can always download full episodes of the show on Amazon, iTunes and Google Play shortly after the episodes premiere. Head over there now to check out what Amazon has in stock
at the moment.
Episodes are about two dollars a piece but you can keep them forever and you won't have to worry about who has the streaming rights to Grandfathered in 2020. The episodes will be yours to cherish forever and always.
https://www.youtube.com/watch?v=1V7u8Jdo63A
Avoid Piracy and Grandfathered Torrents
While it may be tempting to steal episodes of Grandfathered you should avoid doing so at all costs. Most of the time you'll get a shady stream with ads from another country and malware from who knows where. You're also not rewarding the show runners and actors that made Grandfathered possible in the first place. If too many people do this, we won't get great shows like Grandfathered online at all.