Dietland AMC's latest dark comedy series starring Julianna Margulies, and Joy Nash. The series is touted as a revenge fantasy about a woman who works as a ghostwriter for a powerful editor at a fashion magazine. She also happens to be struggling with body image issues. Based on the 2015 novel of the same name by Sarai Walker, it reflects the current cultural influence of social media, mainstream magazines and media on women. It also addresses the prevailing issue of high powered men who suddenly die after a report of their history of sexual abuse goes viral. What you end up watching is an entertaining take on today's American and Western society.
If dark comedies are your thing or you loved reading Dietland, then you'll obviously not want to miss this show. Though if you happen to be working as a ghostwriter yourself, finding the time to watch it on regular cable can be difficult, so below are a couple of ways to stream Dietland online.
Watch Dietland Online Using the Official AMC App or Website
The official AMC app is one of the best things you can use to live stream shows like Dietland, The Walking Dead, etc. on the go. The best thing about the app is its free to use so as long as you can log-in with your cable subscription details. The same goes for streaming via the website. However, if you're not a cable subscriber, there are other methods of streaming that don't even require you own a television!
Live Stream Dietland with AT&T TV NOW
AT&T TV NOW will supply you with a diet of excellent shows by streaming an array of networks like AMC. Being able to stream AMC obviously means that you'll be able to watch Dietland in addition to all other shows by the network. Plus, you can stream other networks like ESPN, Fox, Syfy, etc. You'd expect the service to be expensive like regular cable, but it's not starting at just $30 a month. All you need is to subscribe, download the app to your device and start streaming. You can also start streaming for free by clicking below.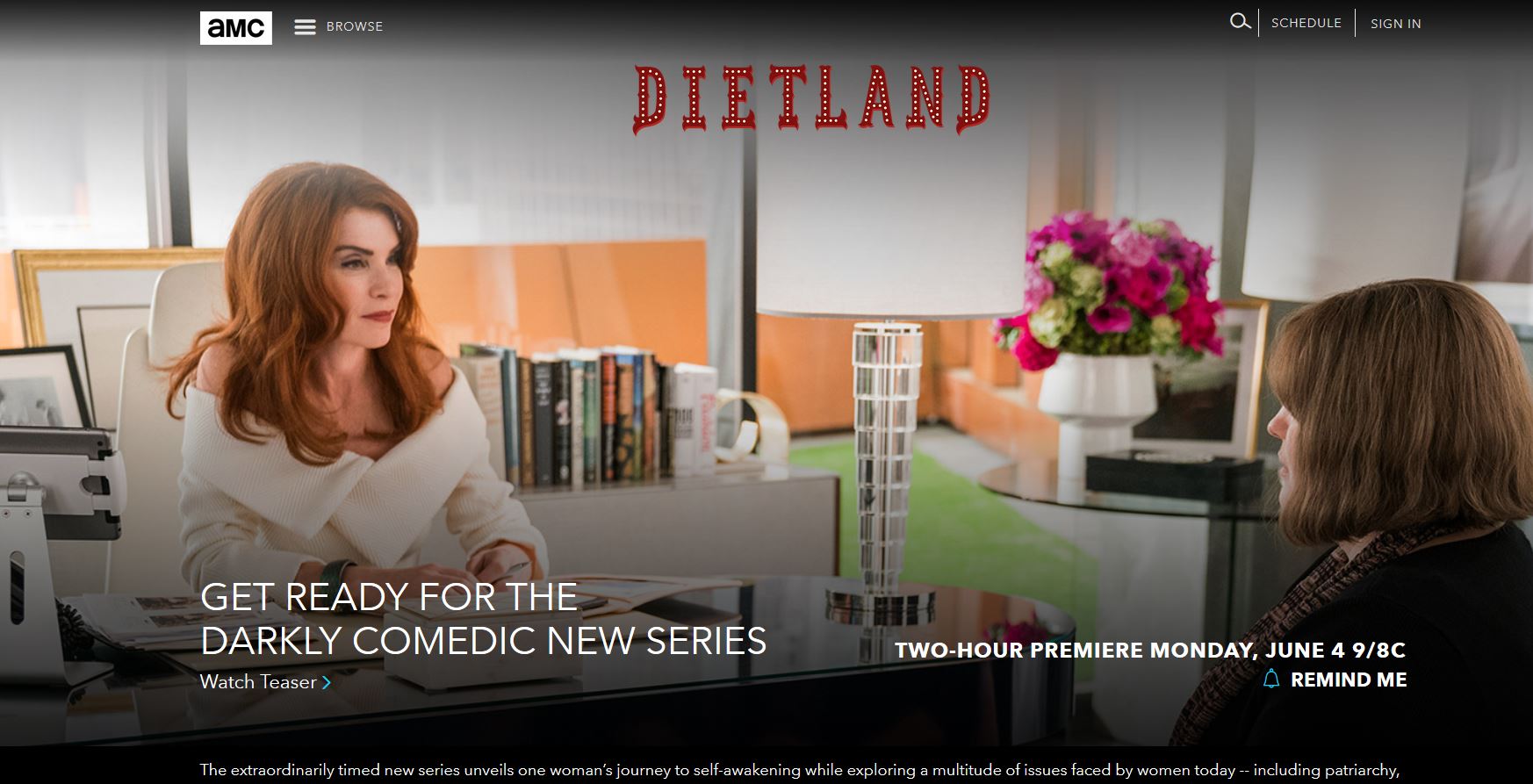 Live Stream Dietland Online with Sling TV
Sling TV is another excellent service for those who want to cut the cord. Like AT&T TV NOW, the service live streams AMC, and so you'll be able to stream Dietland in addition to over a hundred networks depending on the package you choose. Packages start at a mere $20 a month and can be upgraded, downgraded or discontinued at any time. Plus, the service has apps for all major smart devices making it possible to watch Dietland when you're out jogging.
Streaming Dietland on Netflix, Hulu, and Amazon
Netflix has not exactly been friends with AMC even though shows like Breaking Bad did pretty well on the platform. So, new shows like Dietland cannot be streamed on Netflix, and nobody knows when that will change.
Hulu does not have Dietland and will probably not get it. While we expect that AMC should be able to strike a deal with them, it's not happening anytime soon as far as we know.
Amazon Prime should have episodes of Dietland available for download on any device in HD. Though it's a bit pricey at $2.99 per episode.
Other Methods of Streaming Dietland Online for Free
AMC shows like Dietland are pretty popular, and so just about every website dealing in pirated content offers it for free. However, the problem with these websites is that they are naturally illegal. So, unless you're planning on eating an awful diet in jail for, perhaps the next 3 years, we'd advise against using these services.
Last Updated on by Exstreamist