How to Stream the Super Bowl Online Free Without Cable
|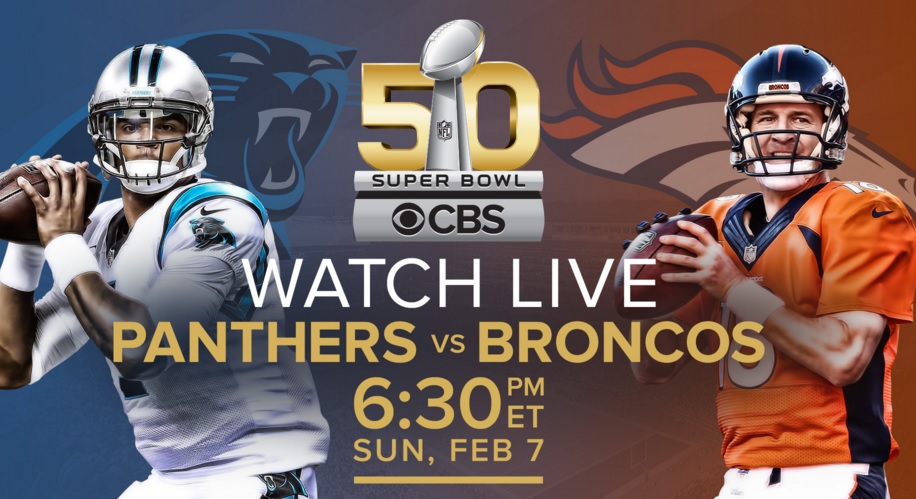 Will The Sheriff go out on top or will Superman strike down an NFL legend's likely final chance at a title?
The biggest sporting event of the world airs this weekend, with the Denver Broncos taking on the Carolina Panthers in San Francisco for Super Bowl 50. Everyone was curious as to whether or not the Broncos would have had a shot this year when Manning was pulled with an injury midway through the season. Their backup QB Brock 'Rock Lobster" Osweiler carried them through the middle of the season successfully, giving Manning's final few games enough leeway to push hard through the playoffs.
The Carolina Panthers? They've been on an absolute war path throughout the entire season, ending with a 15-1 record (damn Falcons, right?) and storming through the playoffs with little regard for the teams they were playing. While the Seahawks gave them a bit of a comeback scare, the Panthers shows the Arizona Cardinals why they belonged atop the NFC with a dominating championship win.
So for those of you looking to stream this year's Super Bowl online, we've got some great news. CBS will be the network broadcasting this year's Super Bowl, and they've chosen to stream the game online completely free.
You can stream Super Bowl 50 free here on CBS.
You won't need any login or cable subscription either, which is a pleasant surprise for those without cable or outside of range of good broadcast television reception.
The 2016 Super Bowl will be available Live on CBS, your computer or tablet at CBSSports.com, or on the CBS Sports App on select home entertainment devices (Xbox One, Apple TV, Android TV, and Roku).
The only bad news, if you're looking to stream the Super Bowl on your phone, you'll need a select Verizon Wireless data plan. Maybe in the future, streaming the NFL on phones won't be quite as hard as it is today, but for now most folks are out of luck.
No word yet as to whether or not the Super Bowl will be streamable after the game is over, but it doesn't seem terribly likely, as the NFL will sell access to that through services such as iTunes.
Will the Super Bowl be on Hulu, Netflix, or Amazon?
No luck on any of these services, as CBS doesn't have any agreements in place to stream the Super Bowl on services like Hulu, Netflix or Amazon. The streaming services likely don't want to make deals for such temporary content, and even if they were, CBS is likely looking to charge quite a bit of money for them to do so.
Watch an incredible Super Bowl trailer created by the NFL below and get hyped for the game this weekend!