Crackle Original 'SuperMansion' Premieres Today Streaming Instantly
|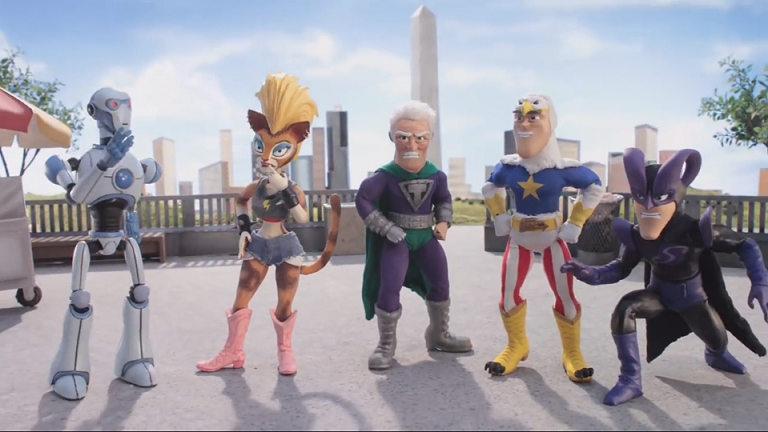 Sony's Crackle, the free, ad-supported, streaming site released original series 'SuperMansion' today, giving anyone with an internet connection and an hour of time the ability to stream the show's first three episodes. New episodes will release weekly until December 17th.
SuperMansion features some well-known stop-motion artists, most notably those that worked on the Emmy-award winning comedy series 'Robot Chicken.'
From Crackle's press release:
SuperMansion stars Emmy® award-winning actor Bryan Cranston ("Breaking Bad") as the voice of Titanium Rex, leader of The League of Freedom, a motley band of super heroes that has seen better days.  Titanium Rex struggles to live with and fight alongside the Millennial-aged, often lackadaisical members of The League of Freedom as they battle against arch-enemies and struggle to remain relevant in a world overcome with heroes.
The stop-motion animated comedy comes from the minds of Stoopid Buddy Stoodios, creators of the Emmy®-winning "Robot Chicken."  SuperMansion also stars the voices of Seth Green ("Family Guy"), Keegan-Michael Key ("Key and Peele"), Jillian Bell ("Workaholics"), Chris Pine (Star Trek) and an incredible roster of guest stars.  Cranston also serves as executive producer, alongside Green, John Harvatine, Eric Towner and James Degus.  Matthew Senreich and Zeb Wells of "Robot Chicken" are creators, writers and executive producers.
From the bits and pieces we've caught in the months prior, the show looks like an instant winner for those who enjoyed other similar comedies, but we'll certainly be checking the show out in its entirety and reporting back with a full review.
You can watch the trailer for SuperMansion below: