Amazon Announces Pilots for Six New Streaming Kid's Shows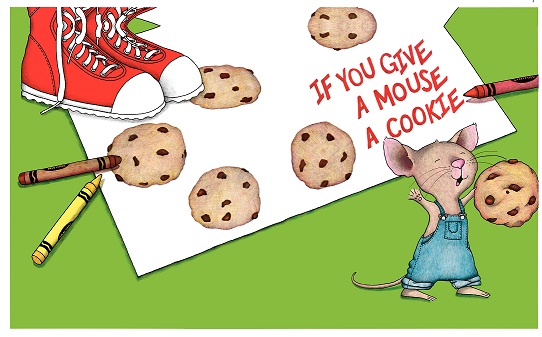 While often less discussed, one of the most important focuses for the major streaming services such as Hulu, Netflix and Amazon has been children's shows. For those without kids, these sections can often be overlooked as irrelevant to their interests.
But for those families with children? These sections have proven to be invaluable.
Being able to safely put on an entire category of shows for kids with no commercial interruption is a great way to keep them entertained with a full library of both the fun and educational. As we talked about on the GeekWire podcast, there has been a major influx of these children's options, all with high quality production that could easily compete on the children's networks.
So good news for parents today, as Amazon announced six pilots for new children's shows, further expanding their library covering the genre. Get the scoop on the new shows below, with some names you might recognize:
If You Give a Mouse a Cookie (for preschool-aged children)
When you give a mouse a cookie, he¹ll probably ask for a glass of milk, and then…who knows what he¹ll ask for next? If You Give a Mouse a Cookie follows the adventures of Mouse, Oliver and other familiar friends as they discover that when you¹ve got a curious Mouse for a friend (not to mention a Moose, a Pig, a Cat and a Dog), one thing always leads to another, then another, and then another! You never know what to expect, but you do know it¹s going to be fun‹and maybe a little bit messy. Much like the books, the story will start in one place and lead to unexpectedly delightful twists and turns until we are back at home where we started. If You Give a Mouse a Cookie is based on the beloved books by Laura Numeroff (Dennis the Menace) and Felicia Bond and written and developed by Emmy Award-winning writer Ken Scarborough (Arthur, Doug).
The Numberlys (for preschool-aged children)
Based on the award-winning book, short film, and app, The Numberlys are five best friends who discover something they¹ve never seen before‹a tiny sprout in their concrete and metal city. Though they don¹t know what it is, they decide to protect this unique little thing against all obstacles. Through invention, stumbles and bumbles, they help the sprout become a beautiful tree, making a lasting, joyful change in their world. Created by William Joyce and Brandon Oldenburg of Oscar Award-winningMoonbot Studios (The Fantastic Flying Books of Mr. Morris Lessmore, Silent, Scarecrow), executive produced by Lampton Enochs (Super), written by Emmy Award winner Joe Fallon (Between the Lions, Arthur), and directed by Saul Blinkoff (Doc McStuffins, Kronk¹s New Groove), The Numberlys encourages children to think beyond the way things are always done and to imagine the way things could be in their world.
Danger & Eggs (for children ages 6-11; animated)
Danger & Eggs follows the endless adventures of fearless D.D. Danger and her ever-cautious best friend, a giant, talking egg named Phillip. D.D., an energetic future stuntwoman, is always chasing her next big thrill. Lucky for her, Phillip is always there with jerry-rigged safety mechanisms to more responsibly­and sometimes absurdly­make her thrill seeking dreams come true. Danger & Eggs is created by Mike Owens (Yo Gabba Gabba!) and Shadi Petosky (Mad), produced by Petosky and Chris Hardwick¹s Puny Entertainment (Yo Gabba Gabba!), and features the voice talents of comedians Aidy Bryant and Eric Knobel (Saturday Night Live).
Eddie of the Realms Eternal (for children ages 6-11; animated)
When lazy, unfocused wizard elf Hobi is faced with the return of the evil Shadow Queen to the Realms Eternal, he summons the greatest hero in all of the planes of reality, ³Edward Armstrong.² Unexpectedly, Hobi gets a meek teen named Eddie who, much like him, has absolutely no idea what he¹s doing. Together, Eddie and Hobi must work together to banish the Shadow Queen from the Realms for eternity while Eddie balances a hero¹s life with the ordinary pressures of middle school life. Eddie of the Realms Eternal is created by Emmy Award-winning writers Bill Motz and Bob Roth (The Penguins of Madagascar) and animated by Oscar-nominated studio Cartoon Saloon (The Secret of Kells, Song of the Sea).
Everstar (for children ages 6-11; animated)
When adventurous 12-year-old Ainslie Wickett accidentally intercepts an intergalactic SOS signal from a lighthouse in Maine, she and her best friend George are brought aboard a rogue spaceship called the Everstar. After defending the ship from pirates, they embark on a journey across the universe where she and her crew encounter aliens, uncover the mysteries of the Everstar and search for a way back home. Everstar is created by Becky Tinker and executive produced by John Rogers (The Player, The Librarians) and Jennifer Court.
Yoyotoki HappyEars! (for children ages 6-11; animated)
When Yoyotoki HappyEars and her fox family accidentally land on Mytholopia, they find themselves in a land where mythical creatures rule and magic is the norm. Although they try to keep their lives as normal as possible (and their jellybean pot pie business up and running), the unusual citizens of Mytholopia stir up their lives in extraordinary ways. Together with her buddies Steak and Hotwings, Yoyotoki discovers the magic in just being herself‹and learns the hard way that you should never trust a Medusa snake to give you directions. Yoyotoki HappyEars! is created by Niki Yang (Adventure Time, Bravest Warriors).
Keep in mind, in order for Amazon to order the shows for full seasons, it's important that they see viewership statistics that make sense for a full order. In other words, if you and your children happen to enjoy one of the above shows, do your best to spread the word in order to encourage a full season order.
We'll have more information about each of the shows closer to their November 5th premiere date.