Aaron Rodgers to Appear with Bill Simmons on Any Given Wednesday TONIGHT
|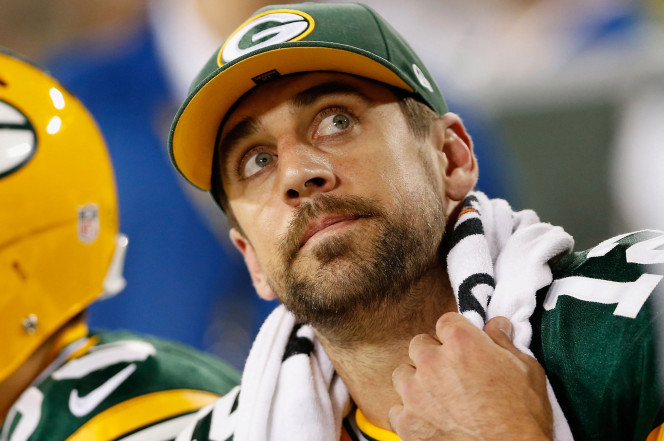 Aaron Rodgers of the Green Bay Packers is unarguably one of the best quarterbacks in the NFL right now. So what will he say when he takes the stage with Bill Simmons on HBO tonight? Will he talk about his brother on The Bachelorette? Probably not but he's always an interesting interview. Give it a watch tonight at 10PM on HBO Go, HBO Now and HBO proper (that's traditional cable for you millennials out there).
Here's the official press release from HBO:
ANY GIVEN WEDNESDAY WITH BILL SIMMONS, a weekly talk show hosted by one of the most influential figures in contemporary sports media, continues its 20-show season WEDNESDAY, JULY 13 (10:00-10:30 p.m. ET/PT), followed by other new episodes subsequent Wednesdays at the same time, exclusively on HBO. Tonight's guest is NFL All-Pro quarterback and Super Bowl XLV MVP Aaron Rodgers.
Other HBO playdates: July 14 (12:45 p.m., 7:30 p.m., 11:30 p.m.), 15 (10:15 a.m., 1:20 a.m.), 17 (10:30 a.m.) and 19 (8:00 p.m.)
HBO2 playdates: July 13 (11:00 p.m.), 14 (8:45 a.m.), 16 (11:10 a.m.), 18 (1:30 a.m.) and 19 (12:30 a.m.)
ANY GIVEN WEDNESDAY WITH BILL SIMMONS is also available on HBO NOW, HBO GO and HBO On Demand, as well as other affiliate portals.
Spanning pop culture and touching on everything from sports and entertainment to arts and technology, the show features intimate conversations with compelling guests, as well as field segments and Simmons' signature commentary on current events.
The show is part of a major exclusive multi-year, multi-platform agreement with HBO that was announced in 2015. Making HBO Simmons' exclusive television home, the deal provides for a comprehensive partnership on a variety of platforms between the network and Simmons, the founding editor of Grantland.com and the creator of the new content site The Ringer.